Tyson Adams is the founder of Jhai Coffee House – the world's first completely philanthropic coffee roaster & café, located at the source in Laos.
Human Asia eagerly spoke to Tyson recently.
What was the inspiration behind Jhai Coffee House?
Tyson:  I started Jhai Coffee House from an actual dream where I fell asleep and woke up and jotted down an idea in my journal. This was ten years ago and I was just a tourist in Laos. I then rode my motorbike into the jungle and met the Lao farmers and started the entire project from this dream.
Tell us about your mission to humanize coffee.
Tyson: Humanizing coffee is where you sit anywhere in the world and look down into the black liquid and instead of seeing your own reflection, you imagine a farmer and know his or her story. There will be a time in our lives when consumers will know the producers they buy from. That time is approaching quickly.
One of your partners is Filanthrope. Please explain their role.
Tyson: Filanthrope is our development partner on the ground and handle everything that is coffee related including planting, picking, processing, drying, roasting, agronomy, cooperative development, etc. Check out www.filanthrope.org. Without them there is no Jhai.
How can people get involved in helping social projects with Jhai?
Tyson:  When you buy coffee in Laos at Jhai, the profits go towards building water wells and putting children through hygiene education.
What does success for Jhai Coffee House look like to you?
Tyson: Jhai judges its success not by the amount of money earned but by the number of children who have access to clean water and hygiene education. It also judges its success by how many farming communities can reach buyers where their incomes exceed 300% more than the local market.
Read also : How to reinvent yourself
Tyson, please tell us a little about yourself.
Tyson: I had no prior experience prior to founding Jhai. This all began from a dream and I learned it all on the go. I do have a business degree from a top ten school in America called the University of Washington in Seattle.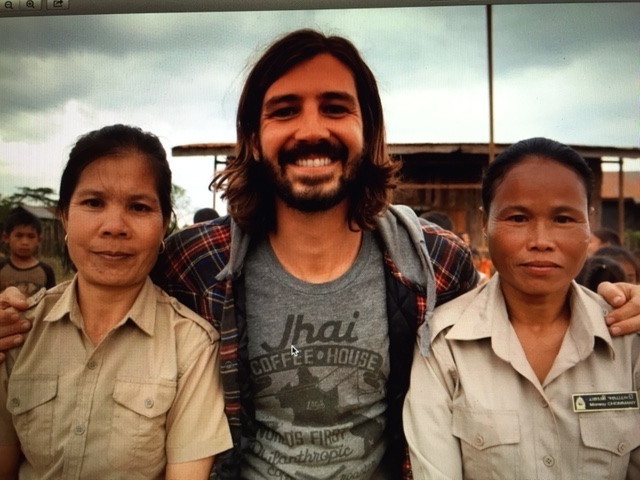 Do you currently live in Laos?
Tyson: I lived in Laos for four straight years, I now live in southern California in San Diego. I am living here to help build out the demand for Lao coffee in America. Michael from Filanthrope have taken my place and live in Laos now.
Who has been your biggest inspiration on your coffee journey?
Tyson: The dream I had changed my life. My biggest inspiration on my coffee journey has been Michael from Filanthrope, who is also one of my best friends.
How do you stay focused and productive to accomplish your day to day tasks?
Tyson: I use Trello as a project management tool.
What is one of the toughest lessons you've learned in your business experience?
Tyson: The toughest lesson I learned is that when you leave your family and friends to pursue something abroad, it is on you to keep in touch with them. This distance does cause a lot of emotional pain often.
What advice do you have for aspiring entrepreneurs looking to start their own business?
Tyson: Don't ask for permission from anyone to start. If you want to do it, tell them once its launched.
---
You can visit Jhai Coffee House at http://www.jhaicoffeehouse.com/
For similar stories, follow us at www.facebook.com/thehumanasia